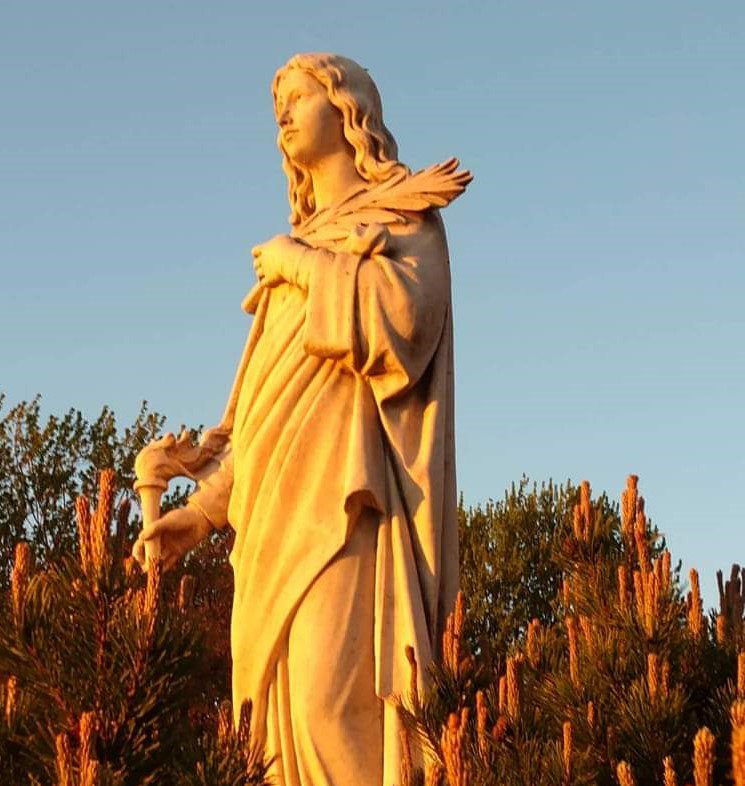 Welcome to St. Thecla Catholic Church
St. Thecla Parish was established in 1952 by Archbishop Edward Cardinal Mooney, who then appointed the Rev. Thaddeus Rzeznick as the first Pastor. The original church was located in the current Activity Center and opened in 1953. This area of Clinton Township was mostly farmland in the early 50's. Macomb County and Clinton Township grew quickly in the late 50's and early 60's.
The parish opened the first wing of the elementary school in 1960 and also built a convent for the nuns who were assigned to teach in the school. In 1964 the current church was built, but originally opened as a gymnasium and multi-purpose room to handle all the activities of the growing parish and school.
In 1972, then Pastor, Rev. Mario DiGiulio decided to convert the multi-purpose room into a permanent church. He set out to raise funds and the building underwent some major changes. The stained glass was added, air-conditioning was installed, and pews were purchased. The old church which is now our Activities Center was converted into the multi-purpose room that it is today.
In 1997 the Gathering Space, the Hallway that connects the church to the gym, and the Gymnasium were built. In 2008, the Media Center was added and named after the longtime Pastor, Monsignor Gary Smetanka.
St. Thecla Parish merged with St. Claude Parish in 2007. In 2013 the St. Claude facilities were sold to the Servants of Jesus of the Divine Mercy.
In 2013 the parish conducted the Changing Lives Together Campaign and the funds were used to renovate the School Entrance and enhance several aspects of the school. The church underwent some major renovations with the addition of the West End Canopy, new lighting, and a remodeled sacristy. Many other maintenance projects were completed as a result of the funds from Changing Lives. Fr. Douglas Bignall was Pastor from 2011 to 2015 during this busy period of updates to our facilities. Fr. Brian Cokonougher led us through the unprecedented Covid-19 emergency and was pastor from 2015 to 2022.
The current Pastor is Fr. Kevin Roelant who came to lead our parish in July of 2022 St. Thecla Parish currently has about 900 registered families.