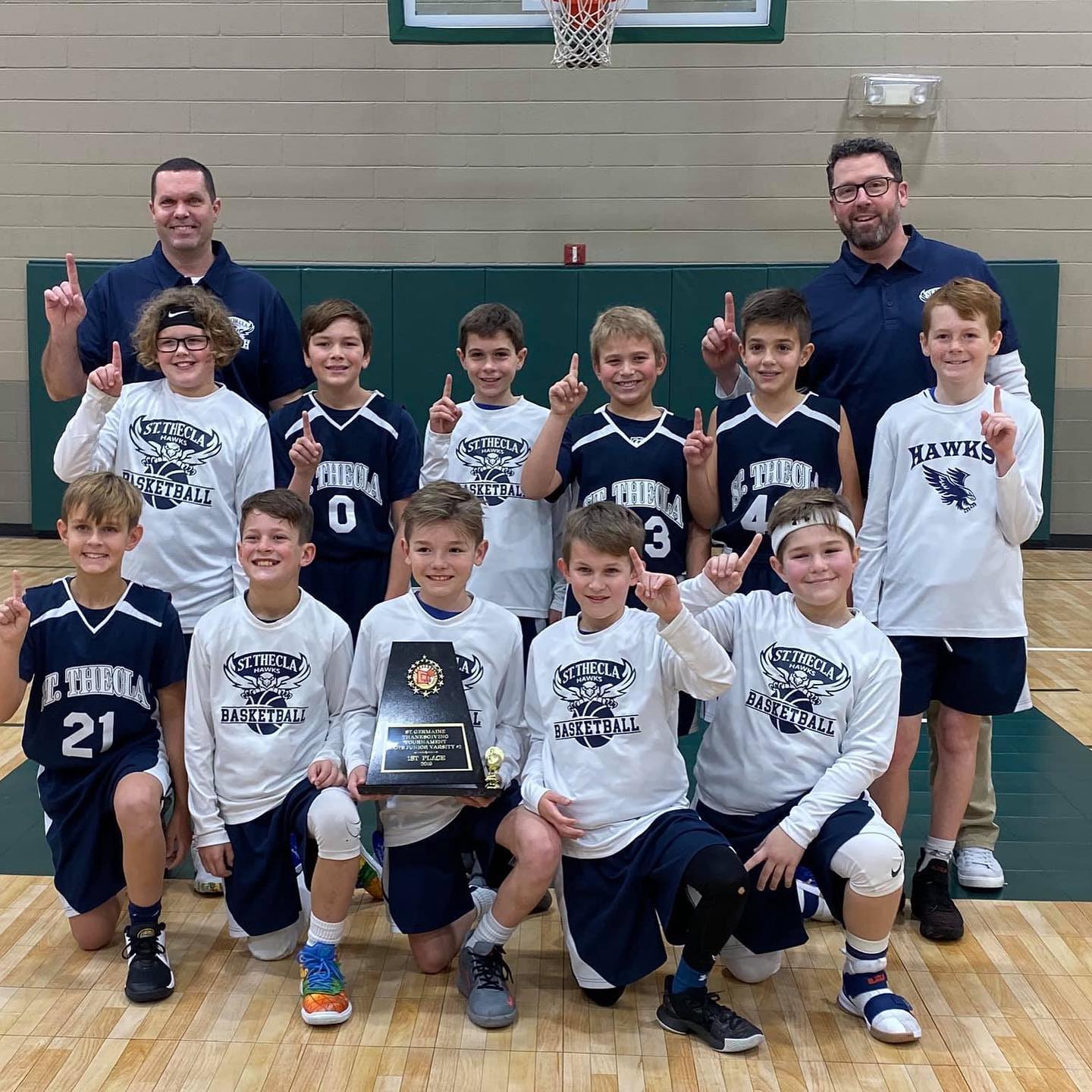 FRIDAY, JANUARY 28th – SPIRIT DAY!
THE GREAT KINDNESS CHALLENGE KICK-OFF BEGINS!
$1 or more jeans day for a cause and wear a red shirt for WE LOVE OUR COMMUNITY DAY. See attached letter explaining this. (Please no ripped jeans or leggings)
Students will decorate the catholic schools week logo sheets, and they will write a list of things they love about st. thecla catholic school/and/or draw pictures.
SUNDAY, JANUARY 30th – Open House for NEW families
WE CELEBRATE SAINT THECLA CATHOLIC PARISH AND SCHOOL!
A few eighth grade students will give catholic testimonials as part of the 11:00 Holy Mass.
Scheduled tours will take place during the open house 12:00 pm – 3:00 pm
MONDAY, January 31st –
WE CELEBRATE OUR COMMUNITY!
Wear slippers or funky socks day!
Students are asked to bring a nonperishable food item with them to school to help keep our food pantry full for those in need. A suggested list is at the bottom.
Students will decorate crosses to show their love for Jesus.
Letters of appreciation will be written to many in and out of our school community.
TUESDAY, FEBRUARY 1st –
WE CELEBRATE OUR STUDENTS!
Wear your favorite solid colored shirt over your uniform to share what virtue you strive for:
Kindness-pink or red
Respect- green
Responsibility-blue
Prayerfulness- yellow
Helpfulness- orange
Holy Mass for grades K – 4 at 8:30 a.m.
Students are asked to bring in their assigned items for the blessing bags. See the bottom of the page for the lists.
Students will be engaged in writing & drawing that relate to catholic schools week themes.
At 2:50 – 3:20, dear [drop everything and read!] will take place in all classrooms.
WEDNESDAY, FEBRUARY 2nd –
WE CELEBRATE OUR COUNTRY!
Wear your favorite hat or headband or bow.
Holy Mass at 8:30 a.m. for grades 5 – 8.
A special prayer for our country will be prayed over the p.a system.
School spelling bee at 1:00 p.m. in the gym, STUDENTS ONLY! Thank you!
THURSDAY, FEBRUARY 3rd –
WE CELEBRATE VOCATIONS!
Twisted Thursday: students may celebrate their creative styles by wearing mix-matched clothing, their shirts backwards, two different shoes, colorful socks, goofy hats…each homeroom will choose the student dressed the wackiest; winners win a prize! *Reminders from the principal: No leggings allowed! No inappropriate sayings; Nothing too tight or too short!
Buddy bingo at 2:50 p.m.,this will be run by the teachers within their own classrooms. Treats for the students will be provided by the student committee & the eighth grade.
Fr. Brian and Fr. Bryan will be invited to stop into our classrooms.
FRIDAY, FEBRUARY 5TH –
WE CELEBRATE OUR PRINCIPAL, FACULTY, AND STAFF!
Fun jean day: students may wear jeans with their favorite high school or college jerseys. They may also wear St. Thecla Hawks spirit wear a reminder from the principal: no leggings, sweat pants, etc. are allowed! no inappropriate sayings; nothing too tight!
The great kindness challenge will continue through the items brought in for the blessing bags, our words, and our actions.
Students will be encouraged to write appreciation letters.
Thank you for your support!
Catholic Schools Week Committee
Thank you for your generosity!
SUGGESTED LIST OF FOOD ITEMS TO BE BROUGHT IN ON
MONDAY, January 31st [OR ANY DAY THIS WEEK] FOR ST. THECLA'S FOOD PANTRY:
PRESCHOOL & KINDERGARTEN: Children Cereal (Not Cheerios please)
FIRST GRADE: Toilet Paper
SECOND GRADE: Macaroni & Cheese (Preferably the type that doesn't require milk & better)
THIRD GRADE: Paper Towel
FOURTH GRADE: Laundry Detergent (smaller packaging /bottles or pods for ease of carrying)
FIFTH GRADE: Coffee
SIXTH GRADE: Jelly
SEVENTH GRADE: All purpose cleaner
EIGHTH GRADE: Canned meat
Students are asked to VOLUNTARILY bring in the following items which will be placed into Blessing Bags and given to those in need! Thank you so much for being a part of this wonderful "GREAT KINDNESS CHALLENGE!"
PRESCHOOL: 2 GALLON SIZE ZIPLOCK BAGGIES
KINDERGARTEN: SOAP OR BODY WASH
FIRST GRADE: BODY LOTION
SECOND GRADE: TOOTHBRUSHES
THIRD GRADE: TOOTHPASTE
FOURTH GRADE: SHAMPOO/CONDITIONER
FIFTH GRADE: DEODORANT
SIXTH GRADE: GLOVES OR MITTENS
SEVENTH GRADE: HATS OR SOCKS
EIGHTH GRADE: HATS, SOCKS, MITTENS, OR GLOVES
ALL DONATIONS ARE VOLUNTARY. ALL DONATIONS MUST BE BROUGHT INTO SCHOOL BY FRIDAY, FEBRUARY 5TH.